How To Join A ShareASale Affiliate Program
Affiliate Marketing is one of the biggest source of income for a group of people in today's time, and there are a lot of option available in the market to utilize. Let's have a detailed look at Affiliate Marketing.
What Is Affiliate Marketing?
Affiliate marketing is an art of earning money (commission), by promoting other people's or company's products.
Find a product you would like to promote.
Promote it to the audience on your website.
Earn commission for each sale that you make.
Remember one thing, to promote other people's or company's products, you first need to have a blog or a website of your own, where you can promote those products. Such an example is Convey Arena, my technology blog, where I can promote the product I want.
It doesn't matter which niche website you have, you can promote any products you like. However, I would suggest that, promote a product which is relevant to your website. For example, if you are running a technology blog, then promote things like Mobiles, Computers etc. If you are running a fashion blog, promote things like Men's Wear, Women's Wear, Fashion Deals etc. So on so forth.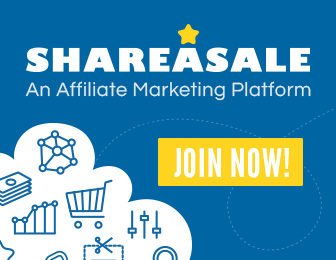 What Is ShareASale Affiliate Program?
ShareASale is an affiliate marketing program. Their main office is located in Chicago, IL USA. There are two type of entities involved, when it comes to this program, the merchant and the affiliate.
Merchants use ShareASale to sell their products and Affiliates use ShareASale to find products to promote, and earn commission for referrals on those products. So, its a win-win situation for both the entities.
ShareASale has different categories of products to promote from. They are as follows,
You can choose any category that suits you the best. Usually, it should be associated with your website niche. For an Affiliate Marketing program, you would require a PayPal Account. Check out out post How To Create A PayPal Account For Bloggers.
Also See

Best Google Adsense Alternatives For Bloggers
How To Sign Up For ShareASale Affiliate Program?
1). Go to ShareASale.com & Click on Affiliate Sign Up
2). Create your Username, Password and Choose your Country of residence. Be careful while creating the Username as it cannot be changed after you move to the next step.
3). List your primary website and answer a few questions about it. Most of these are pretty straight forward questions, but here are a few common answers to questions that arise on this section
Primary Website is the website you will utilize for Affiliate Marketing.
PPC is Pay Per Click. If you utilize PPC such as advertising on Google, Facebook etc, you should check this box.
Select "Yes", if you utilize coupons at all, this includes content blogs that have a coupon tab or section.
ShareASale doesn't allow Affiliates to place advertisements on sites that you don't own.
4). Add your Primary Email Address. You have two options here, Standard and Fast Track. If you have an email Id at the domain you have listed in the last step, you are eligible for Fast Track. For example, rk@conveyarena.com will be eligible for Fast Track, where as rk@gmail.com will be eligible for Standard. In either option, your application will still be reviewed, but with Fast Track you will be approved much faster.
5). Fill in all the information about you, such as, your Name, Surname, Address etc. Also confirm whether you own the website/blog, you had mentioned in Step 3 and whether your website/blog is an incentive program. An incentive program is a website, that rewards its visitors, for performing specific actions. A website that pays customers to take actions such as reading emails would be considered an incentive program. If you aren't sure that your site qualifies as an incentive program, then choose the option "I don't know" option.
6). ShareASale allows payments to be processed by, different payment methods. Choose the best payment method for you and then click on Complete Sign Up. You can change the payment method later, if you want.
7). On the next page, Read and Agree to the User's Terms Of Agreement.
8). ShareASale requires verification of your Email Id, so check your email account for a confirmation link. Click on that link to confirm.
9). Clicking on the confirmation link will take you to the below page. Your ShareASale account hasn't been approved yet. Wait for 3 working days and you will get an email from ShareASale stating whether your account has been approved or not.
Once you account is approved, you can start promoting the products from ShareASale on your website/blog.
Also See,